MY STORY
Ever since I can remember, I have been fascinated with trains.  My interest in them started when I was a small boy in the '80s.  My favourite train is the Intercity 125 and always will be.  I remember when I was a small boy pleading with my Dad to take a detour home via the local Level Crossing and hoping the gates would be down – my excitement levels would then rise dramatically when the gates were down knowing that a fast train would pass – hopefully the Intercity 125.
Away from the big trains I loved model trains as most boys did.  I recall going to the local model shop 'Beatties' in Newcastle Upon Tyne.  Upon entering this amazing place I would be greeted with the wonderful sight of model cars, planes, tanks and trains etc.  I distinctly remember a large model train running around the very top of the store along a shelf high up near the roof.  I loved watching it puff its way around and that is when I noticed the Hornby Intercity 125, the OO gauge model on original blue & yellow livery.  This was the train I had to own.
My dream became reality when at the age of around 5 or 6 my parents bought me the Intercity 125 train set which consisted of one power car, a dummy car and 2 coaches.  There was a circular track too, a controller and a tunnel.  I loved watching at eye level (very easy when that age) the 125 zooming through the tunnel with its head lights on.  Loved it!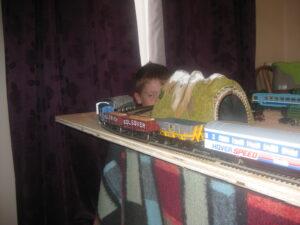 Within the next year or so, unknown to me, my Dad had been building a model railway in the loft.  He had bought extra track, controllers, rolling stock, more trains etc.  He must have spent ages building the layout working on it in between his shift work, building it bit by bit.  Then one day my parents said to me "What's that noise?" …there was like a distant 'hissing' sound.  I funnily enough said "Is it the central heating!!!".  I was then led carefully up the stairs of the loft and was amazed and in shock seeing my model Intercity 125 racing around a large layout.  There were tunnels, stations and, yes, a Level Crossing!
That was the start of my journey with model railways and I have been hooked on them ever since, so much so in fact that when we moved to a new house a few years later, my Dad built a 10 foot shed to house a layout which gave me years of enjoyment.  Unfortunately, I don't have a train set now, all of my stock I have passed on to my 16-year-old son.  I built a layout for him on a 6 by 3 board which he operates now and again.  We've also been to visit the National Railway Museum many times over the years which is always enjoyable.  My dream is to build a massive model railway in the future and the very purpose of this site is to re-ignite that dream and passion by providing useful information for my visitors, as well as product reviews and tons of other content.
I hope you enjoy my website!
Tim
modelrailwayworld.com