The Hornby Azuma promises to be an exiting addition to any model railway layout.  These new types of Hornby models showcase incredible design and detail.
On March 18th 2016, the first Class 800/1 then branded Virgin Trains East Coast 'Azuma' was released.  Since then, the Azuma has been a regular sight operating along the east coast main line.   It is the first locomotive of it's kind to run on British Railways that can switch between overhead electrical and diesel power (IEP Bi-Mode).   Now Hornby are set to introduce the Hornby Azuma LNER livery OO gauge five car train pack.
Quick Summary
This train Pack contains a five-car Hitachi Class 800 finished in LNER's Red & White/Silver Livery.  Hornby has successfully captured the impressive streamlined look of the Hitachi Class 800 very well. The fine details you will notice on the roof of each coach includes all of the aspects you would expect to see on the real coaches such as air-conditioning, electrical units, and diesel engine exhausts. From looking at various photos of Hornby Azuma, the detail in the underframe and body of the model are very impressive, and also show the glazed internal doors.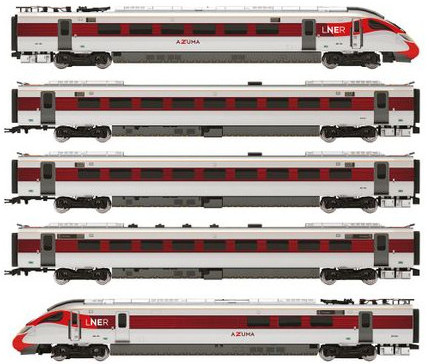 As this product is due for release this Autumn 2021, I can't really say much more about this or comment on how well it runs until I get my hands on it, and test it for real on my test-track layout, which I am really excited about.
Tech Specs
Item Length: 36cm
Designer: Hitachi
Item Scale: 1:76 Scale OO Gauge
Finish: Painted
Gauge: OO
Class: 800 Hitachi
Livery: LNER
Minimum Curve (mm): Radius 2
Motor: 5 Pole skew wound
Conclusion
The Hornby Azuma class 800/1 promises to be the latest exciting offering from Hornby, and I am looking forward immensly to testing this loco on my test track, after which I will complete my review.